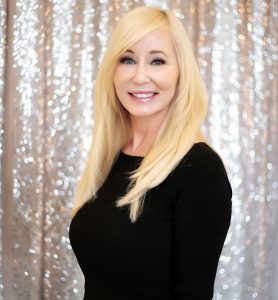 Loraine is the founder and owner of Charmed Medispa, and an Aesthetic Nurse who has successfully delivered thousands of cosmetic injections like Botox, Dysport and dermal fillers as well as comprehensive skin care and laser services. She is an expert in her field, and highly recognized by her peers and community.  She is well known to skillfully combine of aesthetic treatments including the art of dermal fillers, Botox, lasers and skin care to produce unprecedented results and exceptional client satisfaction. Since she has extensive knowledge and experience in all med spa therapies as well as a plastic surgery background, she is able to recommend the most appropriate therapy for your concerns. That is a key element in your search in finding the right med spa provider.
These values and proven results have made Charmed Medispa the number one recommended med spa in Delaware.
Loraine has provided instruction and teaching for dermal fillers and neuromodulators (like Botox and Dysport) and has traveled to teach  physicians and other health care professionals the intricate art of facial rejuvenation and sculpting. She is a sought-after expert on facial aesthetic non-surgical treatments that restore and enhance natural beauty. Loraine has published articles, blogs and has been a guest speaker to provide global education and training on services like fillers, Botox, lasers and skin care.
"The most important aspect of what I do is to educate my patients first.  There is so much misinformation out there and we need to start with a one-on-one consultation that helps patients feel at ease and supported.  Because I have an extensive background in plastic surgery as well as in a medical spa, we can review surgery versus non-surgery options and keep the focus on what is in the patient's best interest.  Not everyone is a good candidate for injections or other medical spa services and I am committed to making sure I say 'no' when it's appropriate.  There is such satisfaction in making my patients look and feel better and I thankful that this is my talent."
Loraine was one of the first aesthetic injectors in Delaware and the Tri-State area. Her artistic talents have focused exclusively on advanced non-surgical facial rejuvenation and non-surgical body treatments. She has been providing injections since they were first FDA approved in 2003. She is a specialist in advanced lip filler techniques that focus on revitalizing the lip area and transforming lip contours and shapes.  In addition, she has cultivated specific points of the face to inject to get a lift in the cheeks, around the  mouth and jawline.
Loraine provides comprehensive aesthetic consultations, treatments as well as training for injections such as Botox and dermal fillers. She has been  involved in the clinical trials for dermal filler and has over 20 years of experience in the plastic surgery and medical spa industry. Loraine is a national Certified Laser Operator-Aesthetic specialist and has performed thousands of laser treatments including laser hair removal, laser resurfacing, intense pulsed light, tattoo removal and more.
What sets Loraine apart from other providers is her integrity to perform the right treatment on the right person at the right time with expert skill set. Because she has so many resources and over twenty years of practice to offer, you can rest assured that your treatment will be the right one for your specific needs. Her portfolio of work is extensive and you can see the natural and refreshed results she has provided in our gallery.
In addition to providing training to other health care providers, Loraine has received extensive training herself for over 20 years. Her entire career has been in the aesthetic industry including extensive plastic surgery experience and advanced med spa services.
In addition, check out the five star reviews and recommendations Loraine has received for her aesthetic results that validates and shows you the support she has from our wonderful community.